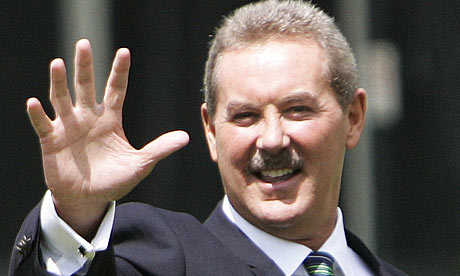 Scamford smiling as he destroys little Antigua's hearts, minds, and 401Ks.
As Scamford is examined by the media, they're slowly finding out how comfortable he was with the Antigua government.  First of all, I've never even heard of Antigua.  Was it in that Beach Boys song where they named every Caribbean island?  Kokomo?  What a horrible song that was.
Turns out, Antigua is a tiny island state of only 75,000 people.  Scamford owned the national bank, at one point owned the national airline, the main sports stadium and two of the restaurants.  He was also knighted by the Antigua government so some people call him "Sir Allen."
Like really?  Really?  Who calls him that.
Scamford also apparently had such a cozy relationship with the tiny Antiguans that they allowed him to be the regulator of his own bank.  Because that usually works.  Brilliantly done!
Now there are fears that the tiny Antiguans will suffer if Scamford is found guilty because he finances a variety of initiatives in Antigua and has helped grow the economy there.  Maybe they should have looked into what Scamford was actually up to in his big bank instead of knighting him and allowing him to parade around with his bazillions of dollars?  Or, maybe they should have asked him to be more accountable.  But I could see how that could have went.
Hello Mr Stanford, can you please maybe allow us to see if you're following good standard banking principles?
Hey sure!  But you know what I was thinking?  I'm thinking you could use a brand new cricket stadium.  What do you say?
Okay!  What was I saying right before you just said cricket stadium?
I don't know, something about llamas?  I was zoning in and out, I won't lie.
Right!  Llamas.  We want to regulate those shithead llamas.